uCloudlink has a business model that allows many partners to participate in its fast-growing business. A PaaS platform has been developed for this very purpose to support partners such that they can quickly offer services and generate revenues. For example, corporations can use uCloudlink PaaR to manage a pool of GlocalMe-enabled devices for their traveling employees. To be our partner, please click Register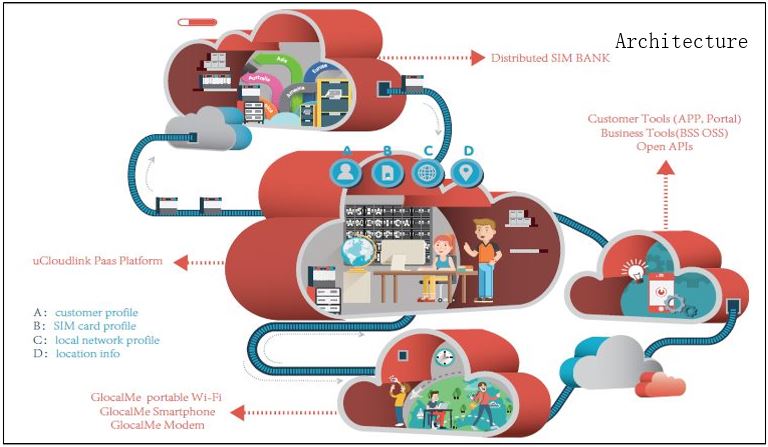 Typical Partners Include:
- Mobile Wi-Fi Rental Companies
Rent GlocalMe devices and operate GlocalMe services via uCloudlink PaaS platform.
- MNOs, MVNOs tending to expand their global coverage
Sell GlocalMe devices and operate services with the support of uCloudlink PaaS Platform.
- Hospitality Industry Players
OTA players, car rental companies, hotels who rent or resell GlocalMe devices and services to their clients or employees.
- Smartphone Vendors
Empower smartphone with GlocalMe® to have more cutting edges.
- Mobile Device and Services Distributors/Re-sellers
Distribute or resell GlocalMe devices and services in local regions.
- SIM Card Providers
Share and host local SIM resources with the support of uCloudlink PaaS Platform and uCloudlink SIM Banks
- Advertising Agents
Advertising through GlocalMe devices.
Core Competencies of uCoudlink PaaS Platform:
• Best User Experience: GlocalMe devices powered by CloudSIM technology are SIM free and able to connect 4G networks, enabling users to enjoy mobile internet globally with no need of changing SIM, no data roaming cost and always experience the best connectivity and high speed.
• Global Coverage: uCloudlink's platform hosts local SIM resources of 100+ countries or regions, ready to serve users heading for global destinations.

• Empower Business: uCloudlink's platform supports BSS/OSS systems, enabling partners of multiple roles and industries to either launch businesses quickly or manage business with lowered operation cost.

• High expansibility: uCloudlink's platform supports open APIs for converging with other platforms.
uCloudlink PaaS Cloud Platform carries functions below:

Customer Management: 360 degree management to support
operation and billing, etc.
Sales Management: Centralized management for different data
package of partners.
Traffic Counting: Billing system based on Pay-as-you-go,
monthly / daily plan, unlimited package.
Role Management: Create different role for administrator
depending on what they need to work on.
Flexible Payment Gateway: Support multiple payment method
including, Paypal, Unionpay, credit card, etc.